How Does It Work?
Refocus your attention on the core activities of the business and let our accounting & book-keeping services bring you closer to your financial needs and goals.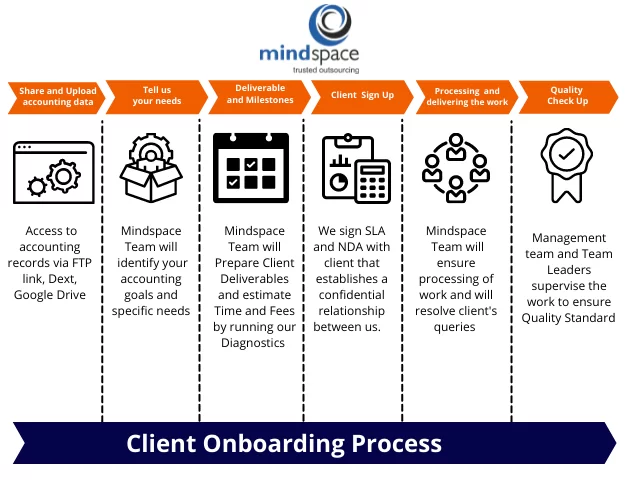 When you want to save cost and effort on financial statements preparation and reports generation.
When you want to safeguard your business's financial health by ensuring accurate financial reports.
When you want to make data-driven decisions to boost and manage growth.
When you want to leverage the latest book-keeping and accounting technology to avail maximum benefits.
When you want to lift off your burden of identifying risks and frauds.
Mindspace has a seamless client onboarding process:-
Scan and Upload the Accounting Data
We understand how crucial and confidential your company's financial data is. Therefore, for the client's accounting record access, we use a safe and secure FTP link, dropbox, Google Drive, Dext, etc. We review your uploaded data, analyze it meticulously and organize it
Tell Us Your Needs
The mindspace team will identify your accounting goals and specific needs. Based on the financial goals after you share the financial data with us.
Our dedicated team of financial experts prepare will implement accounting records processing based on client deliverables and Milestones. The team shall be provide accounting queries to clients as well and once responses are received, accounting books are finalized for that period. Thereafter, work gets revised by Team Lead/ Accounting Reviewer before the work final work delivery is made.
Deliverable and Milestones
Mindspace shall provide you with work estimates and milestones by running diagnostics. We shall provide you with fees estimates and accounting data that will be required to get started.
Client Signup
We sign a non-disclosure agreement (NDA) and SLA which is a legally binding contract that establishes a confidential relationship between the client and Mindspace.
Delivering the Work as per Your Requirements
Once the NDA/SLA is signed, our team will work by keeping in mind all your requirements and accounting objectives, our team aims at delivering the best-in-class bookkeeping and Accounting services to you. We keep the communication loop going by ensuring proper resolution of queries, our Team avoids any scope of errors.
Be Assured About the Quality
By conducting periodic quality checks for the work done by the team members, our qualified leaders and reviewers adhere to the mantra of quality being our No. 1 priority, with all your requirements and accounting objectives, our team aims at delivering the best-in-class bookkeeping and financial services to you.
Striving to reap the benefits of a trusted accounting & book-keeping outsourcing service; one that can cleanse, organize, and report your data effectively? Get in touch with us TODAY!