Outsource bookkeeping process option include remote access based, hosted software based, server based and online options.
Remote login

Data location is your computer
Accounting Software access on your computer
Hardware required computer,scanner,fax
Highly used
Data backup is manual
Ideal for businesses having turnover of more than 1 million
Offline Software
Data location our server
Accounting software is locally with us
Work on Back up file
Hardware required scanner/fax
Ideal for small business with turnover upto 1 million
Online software

Data Location our Server
Online Access to Software
Software functionality is limited
Data backup is automatic
Ideal for Service Companies and Ecommerce Retailers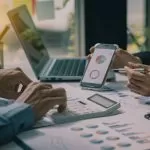 Offline Accounting File:

Client will share the documents (by scan/email, dropbox/google drive).
Client will provide us with a copy of your QuickBooks File.
We will update the QuickBooks files on my computer.
We email or share on cloud (dropbox/Gdrive) with you a backup copy of your QuickBooks file for you to restore on your computer.
Remote PC Access:

We will connect to your computer over the internet using Remote software such as AnyDesk, Teamviewer or a secure VPN connection.
Client will scan the source documents to your computer.
Client will give us remote access to your accounting software.
We will update the books and log out.
Online Software:
Client will send the documents (by scan/email or share on dropbox/google drive)
We sign into the software/website and enter the transactions and logout.
Softwares we use