6 Bookkeeping Software to Digitize Your HVAC Company
Being an HVAC expert one might know that having the right tools will help them get the job done in no time and with more precision and it goes the same for bookkeeping processes. Hence it is vital to have the perfect software and other tools to digitize the business which will save a significant amount of time and money.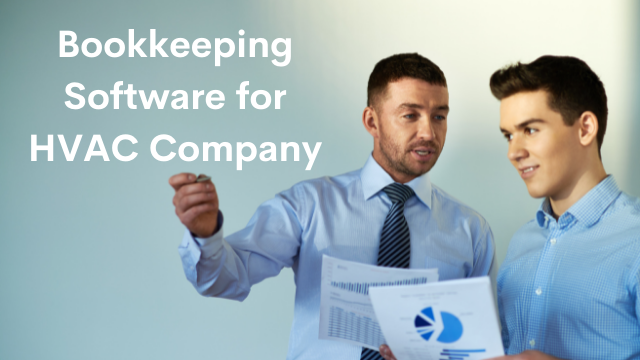 Some must-have tools 
Jobber – It is ideal for home services businesses including HVAC companies which will help them organize their entire operation and can help with managing requests, creating quotes, CRM, routing, accepting payments, and creating invoices for the clients. One can easily manage their jobs and automate invoice follow-ups, saving them time and effort on their collection process.
QuickBooks Online- One needs to have accounting software to manage their expenses, sales tax obligations, and reporting while their operations management software can help them with different activities like scheduling and dispatching. The tools allow business owners and operations managers to collaborate seamlessly with staff, patrons, and suppliers for all of their accounting and bookkeeping requirements.
Dext Prepare- The expense management software can help a company to streamline its expense process and HVAC experts have to work with suppliers. They need to have some receipts from gassing up the work van to coffee runs. One needs to keep a tab of the receipts and invoices so that they can keep a tab on the payments that are due but the software can help them make their expense management process stress-free.
Expensify- It is one of the best employee expense management tools which allows ones'  employees to take an image of their expense receipts. It helps them to create an expense report on Expensify. They can submit the report for their approval and can get reimbursed directly through the app. If one pays for gas then they can manage their reimbursement using the app. The best of all is that the app can keep track of their mileage thanks to the GPS feature.
Plooto- It is ideally an app or program that helps one streamline their payment process. They need to pay their suppliers on time if they want their inventory and supplies to be delivered within a given deadline. The app can easily automate their accounts payable process by bringing together all the invoices from their accounting software which allows them to schedule payments. Plooto will sync it with one's accounting software and mark the paid invoice once the payment is cleared.
Payworks- One can keep their employees satisfied by maintaining an accurate and timely payroll. The software is ideally a cloud-based payroll software that is seamless to use and one can easily upload timesheet data for each employee. The app mainly calculates and remits federal, and provincial deductions for them. It is essential to have the right tools to get the job done on time. Besides having the right tools it is vital to have the right expert by one's side when it comes to the company's finances.