CFO outsourcing services and It's Benefits
A CFO, or Chief Financial Officer, is a senior finance manager in charge of monitoring and managing all financial activities of a corporation. In addition, he is in charge of financial planning, data analysis, record keeping, and financial reporting to upper management. A CFO holds a finance-related degree, such as a Master of Business Administration (MBA) or a Master of Science (in Finance or Accounting).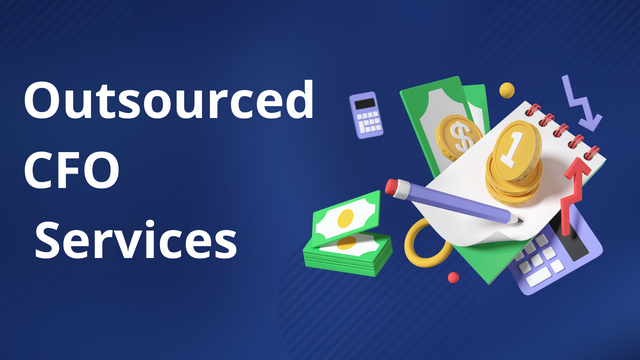 Advantages of Using an Outsourced CFO Service to Increase Profit:-
When compared to an in-house regular CFO, an outsourced CFO has greater independence and knowledge. Here are the top ten advantages of using outsourced CFO services.
1. Increased financial savings and potential for financial growth:- 
The corporation must train and improve its personnel, give paid leave, pay the convenience charge, and provide additional perks. Furthermore, the corporation must give advantages in accordance with local and legal requirements, such as taxes and other work-related resources. This greatly raises the company's expenditures. Companies can cut costs by using CFO outsourcing services. Each organisation sector must work smoothly and efficiently in order to boost financial growth. The outsourced CFO serves as a go-between, vigilantly supervising and monitoring the speed of operation of each department, guaranteeing proportionate growth throughout the organisation. This considerably enhances your company's savings without sacrificing job quality.
2. Product Development and Time-Saving Techniques
The CFO is adept at comprehending the entire product design and may alter contractual conditions for consumers and providers to ensure financial security. Outsourced CFO services provide vital abilities for risk management, legal security, and negotiating, allowing your company to tackle every issue in a timely and effective manner.
3. Expert Advice and an Independent Opinion
Consultants have useful perspectives in a variety of business sectors. CFO outsourcing services provide an experienced and new perspective on the company's difficulties and inventive solutions. An outsourced CFO must have direct access to the financial procedures of the organisation. A CFO may advise on corporate development, provide reports for the yearly review, and propose next moves based on research.
4. Appropriate Financial Advice at the Appropriate Time
Firms might become stranded in financial difficulties, unable to find a way out and raise their profit. Financial professionals assist businesses in overcoming these financial snags in order to boost profitability and security. The outsourced CFO is skilled at multitasking, providing rapid suggestions, and brainstorming fresh ideas for improved business decisions.
5. Restructuring and Crisis Management
An outsourced CFO has an extensive understanding of many markets, businesses, and products, allowing them to properly forecast hazards. To avoid direct damage to the organization's finances, the CFO creates a line of defence. Risk concerns like as financial misunderstanding, accounting issues, and recessions can be managed by the CFO.
6. Simplify Accounting Systems
Outsourced CFO services examine your processes and assist you in streamlining them to save money through wiser work practices. They cover nearly everything that falls within the scope of the finance department. CFO outsourcing services are the most reliable source for accurate cash flow data analysis. They help organisations in managing their money and clear dues that exceed their budget. The CFO makes changes to the organization's money to provide a safety net against potential threats.
7. Financial Analysis and Tax Administration
Company rules require firms to keep adequate records of cash utilised, spent, and earned. Outsourced CFO services assist you in easily recording financial proofs. The CFO has a thorough grasp of money and financial legislation. Outsourced services give an up-to-date, high-level financial analysis of your costs and revenues to assist you in developing financial strategies.
8. Assist with Large Projects
An outsourced CFO has access to a lot of expertise and information. They may bring all of their abilities to the table, providing your organisation with the necessary information to smooth through different business milestones.
9. Financial Information Preparation
Outsourcing CFO services may thoroughly examine the prior costs and earnings of the organisation. They also get direct access to data including stocks, sales, payroll, and consumer behaviour. As a result, they and their services are well valued in terms of achieving a better flow of documentation work. They can generate financial reports for possible investors or regulatory organisations to review.
10. Everyday Business
CFO outsourcing services cover both day-to-day business operations and long-term financial planning to guarantee that your firm is well-positioned for success. A virtual CFO can assist with:
Budgeting
Taking care of your debts
Analysis of Profitability
Forecasting cash flow
Payroll administration
Financial paperwork management
Design and implementation of an accounting system
Mindspace assists you in outsourcing CFO Services for accounting and finance in a variety of sectors. Visit our website to learn more about the services we provide!
More information about our firm may be found on our website. Please contact us at [email protected]