Outsource tax return preparation for UK accounting firms?
Tax preparation, along with tax audits, is one of the most time-consuming procedures that can have a negative impact on an organization's productivity. Organizations interested in tax preparation can instead better employ their time and focus on other key business areas. As a result, it is the only reason why tax preparation outsourcing may help you save time and money.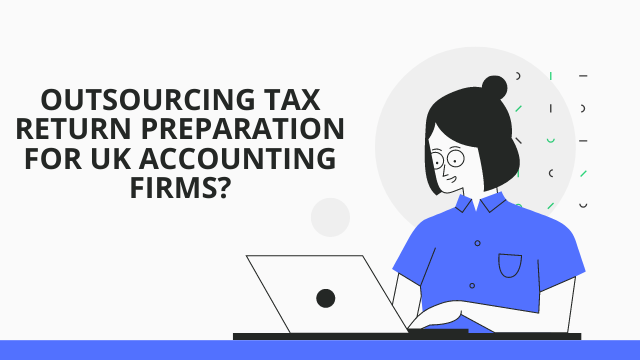 Outsourcing tax Return preparation has become one of the most popular services, particularly among accounting companies that do not have the time to devote to this activity. They choose to outsource accounting and bookkeeping since it saves them money and time. For the majority of accounting businesses, accounting outsourcing services are the norm. Several accounting businesses are having difficulty recruiting people to undertake tax preparation jobs these days. Employees are irritated when they become stalled during hectic periods, such as the January 31st self-assessment deadline. As a result, they must remain occupied with non-core issues rather of focusing solely on those that are critical to the practice's success.
Accounting businesses in the United Kingdom benefit from outsourcing tax return preparation work to India.
Huge cost savings
This is the most compelling incentive for people to outsource their tax returns. In comparison to other nations, the cost of smart and competent labour in India is rather low. Despite the fact that outsourcing is affordable, there is no shortage of talent and high-quality services to give best-in-class services.
Time zone advantage
Everyone would agree on one point: time is money, and because of the numerous benefits, time zone service providers throughout India are available virtually throughout the day. It is a fantastic advantage for UK accounting organisations to have 24/7 access to extraordinarily talented professionals that supply first-rate services to clients in a quick turnaround of justice of 24 to 48 hours. Because of the 4.5-hour time difference between India and the UK, my tax return sent in the late evening can be processed and completed in time for review the next day by the UK firm.
Professional bookkeepers and accountants
India has some top professionals, which is why it ranks among the top outsourcing countries in the world. It is one of the largest talent houses for export bookkeepers and accountants, and you may tap into a significant pool of experience and accomplish your task on time.
IT Security Policy
Maintaining the security of finances and information as the firm grows is one of the primary concerns of every corporation. 
It denotes ensuring the client's data is safe and secure. Before entering into a collaboration with an outsourcing business, essential due diligence for general data security must be performed.
Outsourcing 
is 
a 
straightforward 
practice
that 
may 
benefit 
businesses 
in 
the 
United 
Kingdom.