Clear your bookkeeping backlog with outsourced bookkeeping services!
In this modern generation, we come across new businesses every day, and most of them are startups and are operated on a small scale. The good part about any small-sized business is that they have everything in a tiny quantum, and therefore it is manageable for one person to complete more than one task all by themselves. Since there is not much load for the business, accounting and bookkeeping will not be much load.
People do not want to multitask with the help of persons who are less skilled in accounting and bookkeeping due to high penalties and other changes if there is an error in accounting. Therefore, small businesses nowadays prefer to outsource their accounting and booking keeping to a professional who is an expert in the field. It doesn't take much time for that person too, which results in a high level of accuracy in the accounting and bookkeeping of the business as they are managed and maintained by outsourced bookkeepers.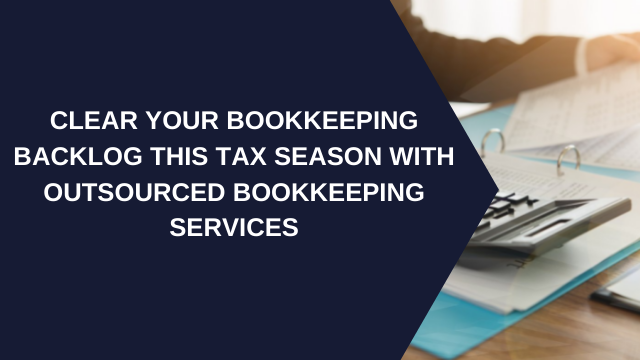 Reasons to outsource bookkeeping and accounting
Low costing for accounting and bookkeeping:-
It was traditionally believed that any outsourced work results in poor quality outcomes and low accuracy, but the reality is different. The outsourcing of accounting and bookkeeping is way cheaper and more accurate than hiring full-time staff with the same amount of skills, knowledge, and experience
Helps save time and money for the recruitment process:-
It isn't easy to find the perfect person for the job in this market. When a company starts the process of recruitment for any staff, they have to incur huge expenses for conducting the interview, and they need to put in their precious time in interviewing all the applicants.

Time-saving:-
Outsourcing accounting and bookkeeping helps in perfectly utilizing time and energy for the development of business and service rather than putting in time for accounting which is readily available at a very reasonable cost, so precious time and energy can be used for networking like getting more business and income besides customer service.

Professional accounting experts and bookkeeping:-
When a business outsources its accounting and bookkeeping to a professional person, they get good service and high-quality of outcome and accuracy, which is crucial for any business. However, it is challenging to find such experts to be employed by a company as outsourcing is at a very reasonable cost for expert service and quality compared to full-time employees. Therefore, it only makes choosing the right professional for managing and handling the accounting and bookkeeping of the business.

Easy scaling of accounting:-
The accounting service is provided as per the requirements of the business. If there is extra work or effort required at any point in time, it can be managed by the outsourced accounting and bookkeeping persons. The business need not go out looking and interviewing and hiring new employees for the company for a particular peak period.

Software and technology:- 
Most of outsourced account firms use automated technologies to save time and accuracy and avoid errors due to human error. Another good part about software and technologies is that they can help get real-time status and reports.