Mindspace is a provider of bookkeeping, payroll and tax preparation services. We specialize in servicing CPA firms as well as small, medium and large businesses.
According to an expert at Forbes, are lots of benefits to outsourcing finance and accounting (F&A). From tax preparation to internal auditing, having an external business do your bookkeeping can lower costs and increase efficiency.
Here at MindSpace Outsourcing, we can help you significantly streamline your internal processes. When there are so many accounting firms out there, though, how can you know that we're a reliable provider?
Clutch.co—recognizes us as a global leader
We're glad you asked! We're proud to announce that we've recently won an award from Clutch.co—a B2B ratings and reviews platform—that recognizes us as a global leader. This is a big deal because Clutch gives credibility to businesses through real reviews left by verified clients. Our quality delivery is the reason that we have been recognized on the Global Clutch Leaders companies list.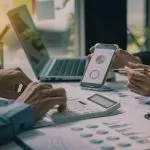 There, we're celebrated for our tax preparation services. What's more? We boast a perfect, 5-star rating!
Here's what one happy customer had to say:
"Best accounting arrangement I've had over 30 years. Ultra trustworthy. Excellent service ethic. They go above and beyond." — Christian Kar, President, One Cup Coffee CO
"Overall, I am very satisfied with the bookkeepers. They are responsive, professional, and accurate. They always address any issues promptly and to my satisfaction and I will continue to work with them."
– Autumn Fletcher, Travel Company Ridgfield, Connecticut, US
"We have been using them for a couple of years now and we will continue to have them as part of our business." – Derrick Muna-Quinata, A US Based Car Dealer, US
We're thrilled to receive recognition from such a client-centric platform because our customers' satisfaction is our biggest yardstick of success.
Clutch has two sister sites that can similarly guide your business decisions. The Manifest, where we rank among the top accounting firms, is a great resource. Visual Objects, where portfolios showcase the work of only the best companies, can also help you choose a partner.
This award only motivates us to continue providing the best accounting services. We'll take all your administrative work off your hands so that you can focus on what you do best. That's what we're here for.
If you are looking for outsourcing your bookkeeping that will stay on top of your bookkeeping. Feel free to contact us for a free consultation where we will provide ways of ensuring that your books are always up to date data and safe! Come talk to us today!