Reasons to Outsource Accounting Services to India
In a recent blog, we talked about why SMEs should outsource their accounting services to India. This time, we'll give you three more reasons to outsource your business' accounting services to India based on the experience of one of our clients.
We recently completed a project with One Cup Coffee, a coffee company based in Seattle. They had such a positive experience with us that they wrote a five-star Clutch review about the partnership and helped us reinforce our position as one of the best outsource accounting companies in the industry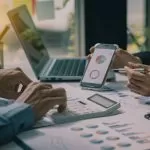 We will be basing our additional reasons to outsource with us on their comments on this review. Let's see what they have to say.
Trust
"Ultra trustworthy."
The unmentioned currency of the accounting industry is trust. Companies are giving us an exclusive look at figures and data that would cause them significant harm if made public.
This is why not only is our team groomed from the most technically astute people available, but they are also tested on their professional discretion.
Work Ethic
"Excellent service ethic. They go above and beyond."
Nobody ever said that accounting was a glamorous job. It's a marathon of tasks that need each person's full focus in order to accomplish correctly. The ability to stay on point for as long as the project lasts, and sometimes even well before it's over is a mark of high standards in work ethic.
We value the quality of our work, and we do everything in our power to ensure that our clients get nothing less.
Reliability
"I never worry about the work getting done."
This connects to one of the original reasons that we mentioned in our earlier blog. Focus on your core activities. The whole point of outsourcing these services to another team is so that you can have peace of mind that the job will get done by professionals.
Give us the driver's seat and simply wait for the reports to come in.
There you have it. Three reasons why you should outsource your accounting tasks to us straight from one of our own clients. If you want to experience these things for yourself, contact us today. We'd love to set up an appointment and talk about what you need to take the business to the next level.